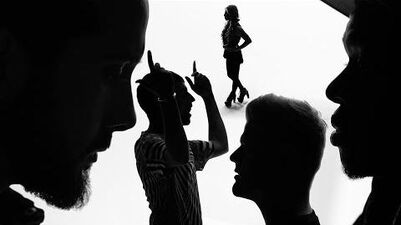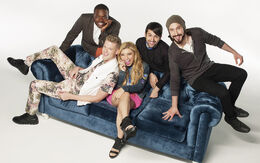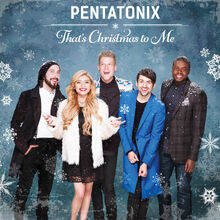 Pentatonix
Pentatonix (often abbreviated as PTX) is an American acappella group of five vocalists originating from Arlington, Texas, Scott Hoying, Kirstie Maldonado, Mitch Grassi, Avi Kaplan and Kevin Olusola. Their work, mostly in, but not limited to, the pop music style, consists of covers of existing songs, sometimes in the form of medleys, and some original material. Their music is defined by their own arrangement style, a strong presence of low bass vocals, and a diverse range of vocal percussion. In 2011 they won the 3rd season of "The Sing Off". This won them $200,000 and a recording contract. Since then Pentatonix has been selling out shows all over the world.
Their Youtube channel ( PTXofficial ) has surpassed 7,100,000 subscribers, and they were also featured in the 2014 Youtube Rewind "Turn Down for 2014".
They did a "Daft Punk" melody, which was Grammy Nominated for Best Arrangement, Instrumental Or A Cappella. The video for Daft Punk has gained over 111,000,000 views on Youtube.
Their 2014 Holiday Album "That's Christmas to Me" went Platinum.
Original
OriginBest Arrangement, Instrumental Or A Cappella
Pentatonix started as Scott Hoying, Kirstie Maldonado and Mitch Grassi, "The Trio". The three went to Martin High School in Arlington, Texas and were in choirs and drama groups together. They oringially arranged a trio version of Telephone by Lady GaGa and Beyonce to enter a radio competition to meet the cast of Glee. They did not win, however, but it sparked attention around their school and even on YouTube where they continued arranging songs on Scott Hoying's channel.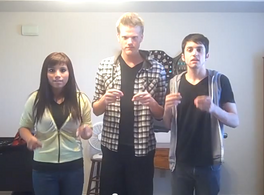 In 2011 Hoying decided he wanted to try out for the third season of NBC's The Sing-Off, a televised a capella singing competition. During this time both Maldonado and Hoying had graduated and started attending different universities while Grassi was still at Martin High School as a senior. A member from Hoying's college a capella group the SoCal Vocals, suggested they find a beat boxer and vocal bassist to add to their already formed trio of singers to add to their sound.
Through a mutual friend, Hoying met Avriel "Avi" Kaplan who already had a reputation for being "an amazing bass in the central California area" and the trio found Kevin Olusola on YouTube around the same time when one of Olusola's videos was going viral of himself beatboxing while playing the cello. The groups only chance to meet was the day before the auditions for The Sing-Off and Grassi had to skip his high school graduation to make it. They made it onto the show and eventually went on to win the show in November 2011.
They say the name Pentatonix comes from the widely used scale in all music, the Pentatonic Scale. The 'x' was added to make it more appealing and "futuristic". The group says they're influenced by many styles of music such as pop, dubstep, elecro and hip-hop. But individually they all have very different styles of music they enjoy which they say helps when it comes to arrangements.
Post 'Sing-Off'
Their main YouTube Channel, ptxofficial, have reached over 7,000,000 subsribers and 122,666,309 views since it began in September, 2011. The group often post videos of the performing covers live in one take using no editing or effects, and the also collaborate with Fifgenfilms to make higher quality, prefessionally recordrd music videos. They often attribute to their continued success after The Sing-Off to their YouTube platform and their dedicated national and international fanbase.
They group has held two livestream shows
Touring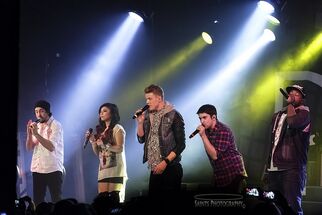 Pentatonix has gone on two US tours, and will be embarking on a European Tour in September, to see dates check the 
ptxofficial tours page.
Albums
Pentatonix-PTX, Vol. 1
Pentatonix-PTX, Vol. 2
Pentatonix-PTXmas
Penatonix-PTX, Vol. lll
Pentatonix-That's Christmas to Me
Appearances and Interviews
External Links
Youtube
Disclaimer
thepentatonix.wikia.com is not affiliated with Pentatonix. It is fan written and run, and welcomes all fans to add and improve the information on this site. Also an apology to Pentatonix and their fans about the fact this is called 'thepentatonix', and well, Todrick Hall did it too.