Avi Kaplan is the bass for the vocal band Pentatonix.
Early Life
Edit
A Visalia, CA native, Avi moved to Walnut, CA in 2007 to attend Mt. San Antonio College, known worldwide for their strong choral and a cappella tradition.  In 2008 he joined Fermata Nowhere, a high-energy male a cappella group that became the first community college a cappella entrants to win the prestigious ICCA.  Avi won the competition's award for "Best Rhythm Section," the first year that this award had ever included a vocal bass (the award was called "Best Vocal Percussionist" before Avi's victory prompted the language change).  In his third year at Mt. San Antonio, Avi joined Sincopation, an award-winning jazz ensemble that won the Monterey Jazz Festival Competition in his first year.
Pentatonix
Edit
Avi was contacted by Scott Hoying (by a friend), who wanted him to join their group for the Sing-Off. He recognized the main trio through their "Telephone" cover, which he had previously watched and loved. He flew to Los Angeles to audition for the Sing-Off with Pentatonix, and they were accepted and later won The Sing-Off.
Artistry
Edit
Avi is a bass, with a voice ranging from E1 to C#5 (Chest voice range being G1-E4). He is a serious student of classical music who also plays guitar, composes and arranges music for both choral and a cappella. He has performed at venues worldwide, including New York City's Lincoln Center and Carnegie Hall.
Appearance
Edit
Avi usually wears his hair down, up in a beanie, or in a man-bun to most concerts.
He has green eyes with a hazel ring around his pupil.
Avi Kaplan is almost never seen without his beard.
Avi used to participate in a choir as a teen.
Avi loves food, especially barbeque and gummy bears, possibly cheeseburgers.
He is popularly known for his "super frown".
He is obsessed with dragons to the point where he thinks they exist. His known favorite things are dragons, barbeque, and low notes. And maybe castles.
Avi enjoys manly alcohol.
In addition to singing bass for Pentatonix, Avi can beatbox and will sometimes make special sounds for the songs accompanying Kevin Olusola.
Avi can overtone sing, meaning singing two notes at once. This ability is demonstrated in Pentatonix's cover of Aha! by Imogen Heap.
He is extremely close with his family, especially his sister Esther Kaplan.
Avi despises selfishness, wishes for world selflessness, and fears that he will not find his true love.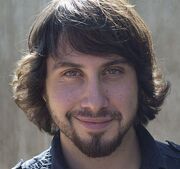 Fact Sheet

| | |
| --- | --- |
| Full Name | Avriel "Avi" Benjamin Kaplan |
| Born | April 17, 1989 (26 years) |
| Hometown | Visalia, CA |
| Vocal Type | Bass |
| Height | 6' / 1.80 |
Social media
Edit